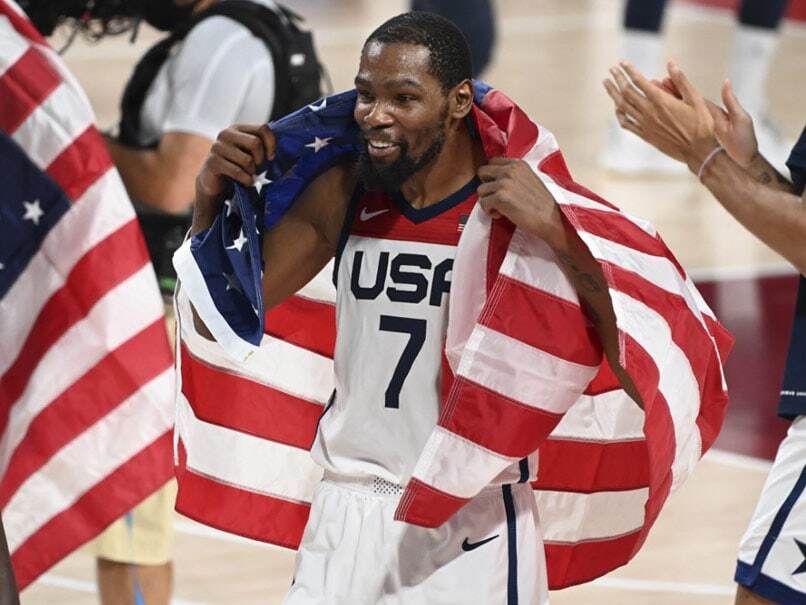 Tokyo Olympics: Proud Kevin Durant Leads USA To 4th Straight Olympic Basketball Gold
Tokyo Olympics: Kevin Durant praised the USA men's basketball team for their win against France (87-82) which helped them secure a fourth straight Olympic gold medal in the sport.
NBA All-Star Kevin Durant hailed his team for overcoming adversity Saturday after pouring in a game-high 29 points to lead the United States past France 87-82 for a "beautiful" fourth straight Olympic men's basketball gold medal. The Americans started slowly but earned a 22-18 lead after the first quarter and were 44-39 ahead at halfway, then survived some nervous late moments to prove the doubters wrong. Gregg Popovich's men had headed to Tokyo after defeats to Nigeria and Australia in lead-up exhibition matches, sparking questions around their global dominance.
They then crashed to seventh-ranked France in their opening group game, their first defeat at an Olympics since the 2004 edition in Athens.
But spearheaded by Durant, they steadied the ship and began gelling, with a French team led by NBA stars Rudy Gobert, Evan Fournier and Nicolas Batum unable to repeat their feat in the final.
Durant was once again the US backbone as he joined Carmelo Anthony as a three-time title-winner, after being part of the triumphant teams in 2012 and 2016.He had already reinforced his stature by surpassing his fellow great during group play to become their all-time leading Olympic points-scorer. "This one feels good because we went through a lot," said the 32-year-old, who is poised to sign a four-year, $198 million contract extension with the Brooklyn Nets, according to his manager.We had a lot of first-time guys on the team, new experience for everyone on the team, Covid, the kind of bubble we were in, no fans, no-one expecting us to lose," he added.